We train, because training is the future Training professions and the training process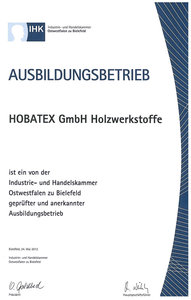 HOBATEX GmbH Industrial Partners trains every year in the following professions:
Industrial clerk m/f
Wholesale and foreign trade clerk (m/f)
The apprenticeship starts on 01 August of each year and lasts 3 years.
During your training, you will generally pass through the following departments: Accounting, Purchasing, Human Resources, Sales, Marketing. You will support your colleagues in preparing quotations and invoices, procuring materials and negotiating with customers.
Apprenticeship requirements
The prerequisite for a vocational training as an industrial clerk m/f or as a clerk in wholesale and foreign trade is an intermediate school leaving certificate.
You should possess the following qualities for an apprenticeship at HOBATEX GmbH Industrial Partners:
You are open-minded and outgoing
You enjoy working in a team
You like to calculate and negotiate
You are committed and enjoy learning
You have a good command of English or even speak other foreign languages
Application documents
We would love to get to know you. We would therefore be delighted if you could send us your application and show us what makes you tick and what you are passionate about.
Your complete application documents should include
Cover letter
Curriculum vitae and photo
Certificates
Proof of previous work experience / internships
Proof of additional qualifications (foreign language / EDP courses, etc.)
Please send your application to Mr Meinolf Meise as early as possible, if possible 1 year prior to the start of training:
By post:
HOBATEX GmbH Industrial Partners
Herrn Meinolf Meise
Driburger Straße 39
33034 Brakel